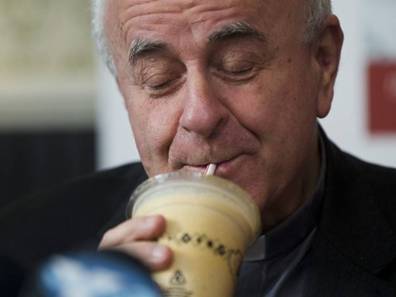 Archbishop Vincenzo Paglia samples a milkshake during a news conference to pick a milkshake for the upcoming World Meeting of Families, Monday, March 9, 2015, at a Potbelly Sandwich Shop in Philadelphia. (AP Photo/Matt Rourke)
"I'm really happy to stay in Philadelphia. I'm Philly, too," said Archbishop Vincenzo Paglia, president of the Vatican's Pontifical Council for the Family. "You are a beautiful and splendid city."
Paglia spoke in Italian-accented English to a group of students, adults and reporters yesterday after he was introduced at a World Meeting of Families Philadelphia 2015 event that involved, of all things, milkshakes at Potbelly Sandwich Shop.
The pontifical council he heads is in charge of the triennial World Meeting of Families to be held this September in Philadelphia. Pope Francis is expected to participate in the weeklong event and lead a Mass.
Paglia was in town for planning meetings with the local organizing committee and officials from the Archdiocese of Philadelphia, including Archbishop Charles Chaput. He also briefly met with Mayor Nutter upon his arrival Sunday night. Yesterday, he said a prayer at the St. John Neumann shrine in Northern Liberties.
The archbishop said that he saw Pope Francis recently and told him he was traveling to Philadelphia. "He say to send his love to all of Philly people," Paglia said. "He wants to close his first trip to the United States with this beautiful city."
Paglia and about 20 students from St. Peter the Apostle School in Northern Liberties, a pre-K to eighth-grade school, were at Potbelly, on Market Street near 17th, to select a milkshake that will serve as a fundraiser for the local committee's planning efforts and the pope's visit.
A vanilla-and-shortbread concoction called #PopeinPhilly beat out two other Philly-themed shakes, World Meeting Mashup and PHL Liberty Bell.
Upon his first sip of #PopeinPhilly, Paglia said, "I continue to stay in Philadelphia. Beautiful temptation."
The shake will be sold from April 1 to Sept. 30 for $3.90. Potbelly will donate 50 cents from every shake sold to the local committee's planning efforts, said Donna Crilley Farrell, executive director of the committee. The limited-edition shake will be offered at three city Potbellys.
From the get-go, Paglia clearly was having a ball, entering Potbelly with his arms in the air and a smile from cheek to cheek: "Good afternoon! Good afternoon!"
As he made his way to the table where he would give remarks alongside Farrell, Paglia made sure he greeted every child and most of the adults.
Then he and the students tried the first of three shakes, which ended up being the winning shake, #PopeinPhilly.
Later, when Paglia stood up and hugged a few students, the rest surrounded him and blessed him with a school prayer.
Eighth-grader Maxine Van Osten, 14, thought the whole event "was really cool."
"It's interesting to see the more human side of people from the Vatican," Van Osten said. "It's interesting to see them drinking milkshakes and hanging out with the kids."
(Philly.Com)