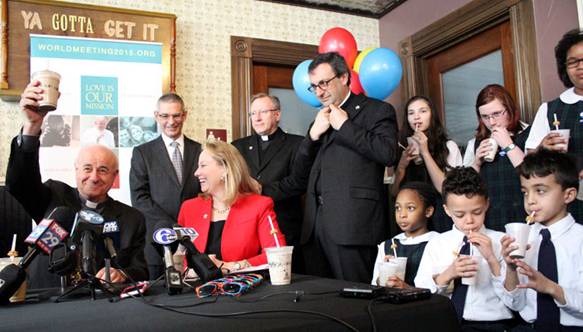 It's official: Archbishop Vincenzo Paglia (left) of the Vatican selects the top milkshake from Potbelly Sandwich Shop, with help from the students of St. Peter the Apostle School, in Philadelphia on Monday, March 9. Proceeds from the sale of three special milkshakes will support the World Meeting of Families Planning effort. The Sept. 22-25 event in the Philadelphia is sponsored by the Vatican office headed by the archbishop, and led locally by the organization headed by Donna Crilley Farrell (seated in center). (Photo by Sarah Webb)
Posted in Local News, on March 10th, 2015
By Matthew Gambino
Archbishop Vincenzo Paglia was in Philadelphia Monday, March 9 to check on planning for the World Meeting of Families and visit by Pope Francis in Philadelphia this September.
But he had an equally important meeting as well: drinking milkshakes at Potbelly Sandwich Shop in center city with about 18 students of St. Peter the Apostle School.
The archbishop, who heads the Pontifical Council for the Family which is co-sponsoring the Sept. 22-25 congress for families from around the world, had gotten to know the North Philadelphia school community when he visited the city last year.
At his visit this week he was supposed to give his stamp of approval to one of three special milkshakes concocted by Potbelly's. But with a resounding thumbs-up from the thirsty children, the archbishop deferred to their decision that the shake titled "#popeinphilly" was the most delicious.
That milkshake made of vanilla ice cream and butter shortbread cookies won straws down over "World Meeting Mash-Up" (vanilla ice cream plus Oreo and shortbread cookies) and "PHL Liberty Bell" (vanilla ice cream, chocolate syrup, peanut butter and bananas).
The figurative cherry on top of all the fun was the news that Potbelly, with shops on 17th street in center city and on the Temple University and University of Pennsylvania campuses, is donating 50 cents from the $3.90 purchase of each of the three shakes to the World Meeting of Families and papal visit. The promotion runs from April 1 to Sept. 30.
Donna Crilley Farrell, executive director of the families' congress who led the milkshake selection Monday, called the promotion a "fun and delicious way for citizens to help" in the preparations for the September events.
Pope Francis is expected to visit the city after the conclusion of the congress, Sept. 26-27, after visiting New York and Washington, D.C., in his first trip to the United States as pontiff.
(CATHOLIC PHILLY)