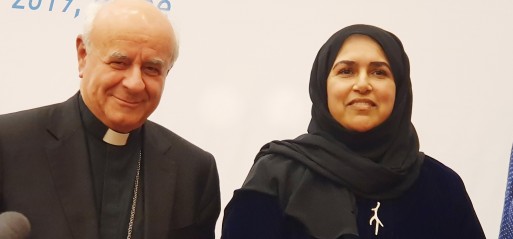 An interfaith conference in Vatican City, Italy, has led the Qatar Foundation Initiative (QFI) to make three commitments to improve the implementation of palliative care in Qatar.
Jointly organized by QFI, the Qatar-based the World Innovation Summit for Health (WISH) and the Vatican's Pontifical Academy for Life (PAL), the conference titled 'Religion and Medical Ethics: Palliative Care and the Mental Health of the Elderly' , brought the Abrahamic faiths perspectives on issues of faith, spirituality and medicine in palliative care.
"We will develop religion and medical ethic training sessions for healthcare workers that emphasize how spirituality needs to be considered as integral to holistic care," vowed Sultana Afdhal, CEO of WISH at the end of the conference on December 12.
"These interfaith conversations concentrated on love and compassion and how religions respect and undertake palliative care from a religious perspective," Afdhal told The Muslim News.
Many of the values which were discussed like love, compassion, elderly care are not unique to religion and spirituality. Many who do not believe in religion have similar values. So why does the conference concentrate on faith-based values as unique?
"It is true that many people do not have a religion, but they still have beliefs. We believe in humanity, we have a message for people who do believe in it. It is always important when we are talking about faiths — monotheistic faiths — to reinforce these messages because whilst people outside of religion do have similar values, it is not a bad thing for us to remind them that we too have similar values," she said.
Afdhal believes that it is important to train doctors beyond palliative care, as "that is not something they think of as they think of saving lives not how people will die" but also of patients' belief systems, about their faith and faith's view on palliative care.
So it is important to provide training "so that doctors can all have the same type of knowledge and practise. Lastly, we will work together with the PAL to produce a practical publication for healthcare workers that helps them better understand the needs of people of faith receiving palliative care.
"It is vital that our talks lead to positive action that is patient-focused, that promotes the need to consider the faith of patients, and that helps healthcare workers to better deliver compassionate care," she said.
In his closing address, Archbishop Vincenzo Paglia, President of PAL, said palliative care should be mandatory medical training for all healthcare professionals, to ensure the continuation of care for the elderly.
"There is a problem in terms of communicating this approach of accompanying people towards the end of their lives. We need to consider it and try to understand how our movement can be effective in this sector. We have to promote the growth of a culture of palliative care in universities, and I would like this to be a mandatory subject in medical schools."
The Archbishop believes there is a lack of spirituality in treating patients during palliative care.  "It is important that Abrahamic religions should form a new alliance in order to help the world to deal at this moment in human and spiritual experience," he told The Muslim News.
"In our faiths, we have a great treasure of the ability to treat sick patients with compassion. Unfortunately, people want to accelerate death (during palliative care); we want to fight this kind of culture and to promote a new kind of culture, the culture of companionship and compassion," he said.
He said it was important to include various people — doctors, family, nurses, friends, religious people, nurses and society — to make end-of-life decisions.
When do you make a decision not to continue treating end-of-life patient?
"It is impossible to establish this. Surely, we have to take care of him. We have to discuss to reach the right moment [to stop treatment]. We need to find a balance between the right treatment and extreme/excessive treatment that is not good for the patient. We have to reach a good decision. Every case is different," he argued.
Among the topics discussed at the symposium was the effect of Alzheimer's and other forms of dementia on an increasingly-ageing population.
A session on 'Maintaining the Bridge of Love Between People with Dementia and their Carers' saw Professor Marco Trabucchi, of the Pontifical Academy for Life, voice his fear that, in some communities, family obligations to helping loved ones suffering from ill-health — especially if they are elderly — are waning.
He said a "new framework" that encourages healthcare institutions to recognize the importance of relationships and love in the process of healing is needed and explained that new technologies — such as the advancement of Artificial Intelligence — could help "overworked" caregivers have more time with patients. "It could free up new energies that enable them to have more time for love and personal care," he said.
Offering an Islamic perspective on the issue, Dr Hanadi Khamis Al Hamad, Medical Director of Rumailah Hospital and the Qatar Rehabilitation Institute, said the Muslim faith encourages members of society to take care of their loved ones.
"Love and taking care of a mother or a father or a loved one is part of a strong religious conception as a Muslim; it is considered rewarding in Islam," she told the symposium. "We have a positive responsibility toward our parents."
What has traditionally been lacking, said Dr Al Hamad, is a lingering stigma and misconceptions about diseases that afflict an ageing population, explaining that people can hide a family members' dementia or mistakenly believe it is a natural part of the ageing process.
"In Islam, we have a notion that the elderly are a source of blessing in life. We need more interdisciplinary scholarly research about this topic with input from the Islamic tradition," said Professor Mohammed Ghaly, Islam Biomedical Ethics, College of Islamic Studies, Hamad Bin Khalifa University, Qatar.
"The very nature of palliative care means easing the pain as opposed to finding a cure, in some cases,this means stopping curative treatment," argued Ghaly.
The conference also focussed on the need for dignity in the care of elderly people. It was also agreed that embracing a person's religion and spirituality can ensure better health outcomes and must be at the core of palliative care, particularly to safeguard the mental health of the elderly.
Bishop Noel Simard of Valleyfield, Québec, said that "the need for justice, dignity and respect, quality of healthcare, responsible stewardship, solidarity, compassion, and care" is imperative in palliative care.
"When we talk about inherent dignity, it should not be diminished by the deterioration of a health condition. It lasts and must always be looked for, at all stages and walks of life.
"The frail, the elderly, and people with dementia confront us with the limits and vulnerability of human life. We need global ethics of care — we are all inter-dependent and in need of each other," he said.
Addressing the mental health of the elderly from an Islamic perspective, Dr Ayman Shabana, Associate Research Professor at QF partner university Georgetown University in Qatar, emphasized the need for every elderly member of society to have "integration within the family and larger social fabric."
"They should never be isolated or left to suffer loneliness or other problems.
"In our religion, the elderly are seen as the ones that have already contributed in life; and now it is their turn to enjoy the fruits of their hard work. Serving the needs of these people can serve as a practical testimony to our faith commitments."
Dr Ferdinando Cancelli, a member of PAL and a palliative care specialist, told the conference that one common drawback in the treatment of elderly people is the attitude toward managing their pain, saying: "In many cases, it is insufficiently controlled and pain is trivialized."
People — including caregivers — view pain as a common symptom of ageing, he said, meaning there is often insufficient alleviation of elderly people's symptoms which can lead to the hoarding and accumulating medicine, self-administering and increasing the risk of complications.
Ahmed Versi in Rome, Italy