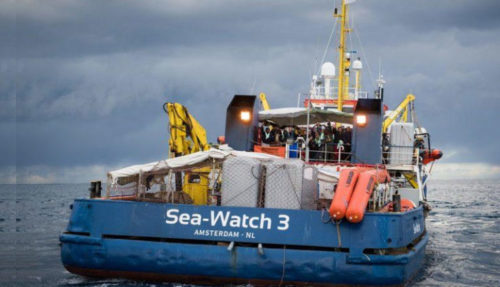 It's a new year but the same story for Europe, where two boats carrying immigrants have been stranded at sea for days while diplomats, clerics and politicians argue over whose responsibility it is to take them in.
Pope Francis weighed in by calling European leaders to show "concrete solidarity" toward those fleeing poverty and persecution during his Angelus prayer in St. Peter's Square at the Vatican Jan. 6.
For the past 16 days, the vessel Sea Watch 3, carrying 49 immigrants including seven minors, has been denied access to nearby ports in Italy and Malta, caught in a contest of wills between national states and the European Union. The Sea Eye vessel has been in the same situation for over a week.
The incident, like previous similar cases – such as with the Diciotti and Aquarius vessels -has raised tensions over immigration on the Old Continent. In this context, the Catholic Church has consistently spoken out in defense of migrants and urged politicians to welcome and integrate foreigners.
"The pope speaks to the European political leaders who guide 27 nations, with 500 million people and are not capable of making a decision over 49 people," said Italian Archbishop Vincenzo Paglia, President of the Pontifical Academy for Life, in an interview with local news outlet Tgcom24.
"The Holy Father is right because when the fear of losing votes is greater than love and solidarity, society becomes uncivilized," he said.
The archbishop compared politicians solely concerned with keeping their electoral base to King Herod and the population of Jerusalem in the Bible, who were afraid of the infant Jesus.
"Should we be afraid of 49 people?" Paglia asked, adding that while the immigration phenomenon must be governed "the heart cannot be chained, or risk losing that sense of humanity that is indispensable in a globalized world."
Italian Interior Minister and leader of the populist right-wing "Northern League" party, Matteo Salvini, has repeatedly refused to open the national ports to vessels carrying immigrants. Instead he has called Europe to share the responsibility of integrating foreigners and put an end to human trafficking.
The head of the left-leaning Five Star Movement and Italian Minister of the Economy, Luigi Di Maio, has taken a more welcoming stance, suggesting that Italy take in the women and children aboard the two vessels.
"Is it possible to think of dividing children from their parents?" Paglia said in reply to Di Maio's comments. "We're facing a breach of civilization, and I think it's important to underline this and give an immediate answer to the Pope's appeal."
The President of the Italian Bishops' Conference (CEI) commission on migration, Bishop Guerino di Tora, urged politicians to action stating that "before humanitarian situations that echo images of death, one cannot step back in good conscience."
Despite the outcry from Catholic hierarchy, Salvini has stood his ground so far. "I saw that CEI urged us to welcome. I think we must think about Italians before all…" the minister fired back on social media.
For the immigrants on Sea Watch 3 and Sea Eye, time is running out as provisions diminish and morale fails.
"It's necessary to proceed to the immediate disembarkation of all guests," spokespeople for the NGOs say.
"How many will we welcome? Zero," Salvini answered on Facebook. "If we give up today human traffickers will return to making money."
"They can make appeals, the bishop, the singer, the soccer player, but I answer to 60 million Italians who have a right to a country in which you enter legally," he added.
The same position is held by Joseph Muscat, Prime Minister of Malta, who stated that his country will not become the welcoming center for immigrants unwanted by European states. The small island state has said that it has already welcomed a steady stream of immigrants over the winter holidays.
Archbishop Charles Scicluna of Malta criticized the country's decision not to open the ports to the migrant vessels, calling it "a great injustice that these brothers and sisters have become victims of negotiations between European leaders."
So far, only Germany has offered to take in the 49 immigrants, "for a quick solution in the context of a shared responsibility and European solidarity," a spokesperson said Jan. 7.
Some clergy have decided to take matters into their own hands, such as Italian Archbishop Cesare Nosiglia of Turin, who during his Sunday homily offered to welcome the immigrants at sea in his diocese.
The gesture is "symbolic because it's for us extremely necessary, in this moment, to send a clear message on the meaning of welcoming to Italy's institutional authorities and to other European countries," he said.
"It's spiritual because how can we otherwise speak and preach welcoming of those in need, if we don't put ourselves in the position to do it," Nosiglia continued. "We are talking about people. Every little effort to alleviate certain suffering, certain hardships, has a great value especially if we are not the only ones facing the issue in these terms."
Many Italians have gone to social media to criticize the Church's position and integrity on this subject. When the Diciotti vessel was allowed to port in Italy in September of last year, the Catholic Church took responsibility over placing the over 100 immigrants in welcoming centers, but almost all of them ran away within hours to unknown destinations.
Immigration continues to be a point of rupture not only between political factions but also between the Vatican and many Italian and European citizens, who have become increasingly more hostile to the Catholic Church's appeals.
"Unfortunately, Europe has aged, it has lost its grit," said Bishop Mario Grech of Gozo, Malta, commenting on the situation on Vatican Radio. "There is a lot of fear and misinformation, and this is another factor that halts courageous decisions."