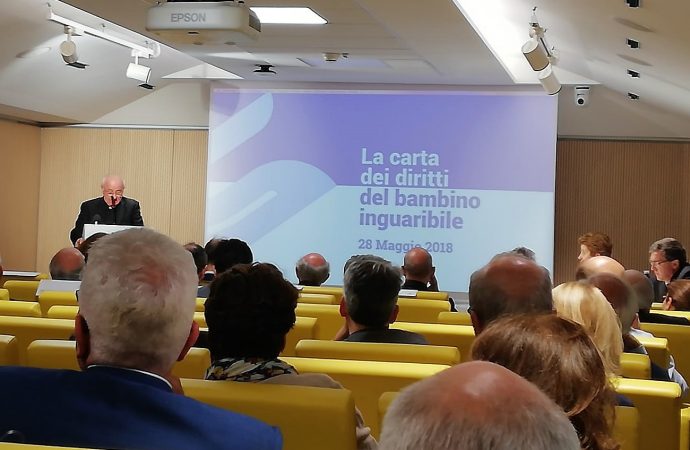 ROME – Bunkered in the pope's pediatric hospital on top of Rome's Janiculum Hill, the losers in the battle to save the lives of Charlie Gard and Alfie Evans met Monday to discuss strategies going forward and present a charter of rights for incurable children.
"It seems absurd that a judge's sentence could overcome the relationship between a parent and his child," said Italian Archbishop Vincenzo Paglia, President of the Pontifical Academy for Life, to attendees at the seminar.
"When we end up handing over life to a judge's decision, we are finished," he added. "All of us."
Protests, marches and demonstrations of support were not enough to convince the British government to move the toddler Alfie Evans, who suffered from a mysterious degenerative neurological condition, to the Vatican's Bambino Gesù hospital in Rome for treatment, even after the Italian government made him a citizen.
Despite these attempts, Alfie died on April 28, after being removed from life support against the wishes of his parents. His case, along with the similar one of the 11-month-old Charlie Gard, raised the debate concerning bioethics worldwide, splitting public opinion.
While the families of Alfie and Charlie certainly lost a great deal in their battle, the group of diplomats, lawyers, doctors and bishops who met in Rome Monday also fought hard – and lost hard – in the quest to make their cases heard.
"The parents asked us for careful attention, and we answered," said Mariella Enoc, President of the Bambino Gesù, also hinting that their engagement was motivated by a direct papal nudge.
If this were indeed a war room, Enoc would be the general. She has been an important player in these cases, offering for the children to be brought to Bambino Gesù for treatment, and even suggesting that Charlie might have been saved had he arrived in Rome in time.
"The hospital couldn't establish any type of dialogue," she said, pointing to a lack of communication as one of the primary reasons for the failure to move the children to Rome and for their incapacity to galvanize public opinion in their favor.
Now, as tensions have eased, the losers are rallying the ranks and preparing for the next opportunity which will most likely spiral onto the global stage through trending hashtags and 24-hour news cycles.
"We must not pay attention to the single media-intense cases, but look for paths going forward," Enoc said, suggesting a shift away from division and controversy toward dialogue and practical solutions.
As part of a new armory for the defense of human life, the hospital has deployed a "charter of rights for incurable children," with ten points, which, in many ways, trace the stories of the Alfie and Charlie cases.
Incurable children have a right to "a good relationship" with medical staff, the charter says, as well as the right to a second medical opinion, "the best experimental cures," and "transnational sanitary mobility." These children, like all children, must have access to palliative care and to psychological and spiritual accompaniment, the document states.
"We have decided to care for incurable children from every part of the world," Enoc said, adding that this is a "complicated choice," given the expense it implies. At the same time, the hospital has been recovering from a financial scandal that hit its former leadership.
Vatican indicts two ex-officials of children's hospital for financial crimes
"We don't do this because we are good, nor because we are the pope's hospital, but because we believe in life, we believe in the Gospel," she said.
Elsewhere, successes for the pro-life movement in Europe have been scarce. The north has permissive legislation in terms of euthanasia, and in the Netherlands and Belgium, even minors can have access to assisted suicide. Recently, Ireland's vote legalizing abortion has dealt a powerful blow to what was once a bastion of Catholicism in the West.
Silvia Costa, a member of the European parliament, has been a strong advocate for the need for better legislation on these issues, and in particular incurable children, in Europe. After all, she said, Alfie and Charlie were both European citizens and therefore entitled to travel freely in search of better treatment.
"Every time you have go to a judge, who in the case of the United Kingdom is relatively autocratic, for such a delicate matter, I believe it's a failure," Costa said.
According to most of the speakers at the seminar, better collaboration and understanding between doctors and families is key to avoiding legal trials and appeals. Paglia insisted on the importance of a "therapeutic alliance" between parents and medical personnel.
"The Pontifical Academy for Life is committed in every way that this alliance may never be interrupted," he said.
To this end, he added, the Academy is creating a group tasked with following similar cases, including those not involving children. This committee, he added, will act as a sentinel, formulating outlooks for public use, and "favoring a culture of life that is always shared, accompanied, defended and promoted."
Such initiatives will help to offer clarity in a somewhat crowded media environment, where reliable information is hard to find, organizers agreed. "Having careful, precise documentation in order to make judgements with full awareness wasn't easy," Paglia said.
During the initial phases of the Gard case in the Summer of 2017, the academy was criticized for a statement which, according to certain pro-life camps, appeared to express sympathy for a court ruling preventing the parents from pursuing experimental treatment in the U.S. to combat his life-threatening disease.
It was Pope Francis who cleared the air, by taking to twitter to proclaim his support for Gard and the defense of life. He then tapped Enoc to try and bring the infant to Rome, a similar approach to the one he took later in the Alfie case.
Pope Francis backs parents in UK's Charlie Gard drama
Italian Bishop Daniele De Luca, from the earthquake-stricken diocese of Carpi, had a crucial role in putting Alfie's family in communication with the pope. He was the one who got the family's letter on Francis's desk, two days before the pope tweeted out his support.
After it was announced that Alfie would be taken off life support, De Luca planned an audience between the pope and Alfie's father, Thomas. The meeting sent a clear message that the pope, his bishops and his hospital take a strong stand in defense of life.
Now, a month later, the losers in these cases are assessing their successes and their failures. While some were skeptical that there could be a silver lining for the staunch defenders of life on the Old Continent, others hoped that the stories of Charlie and Alfie might have not just tugged hearts, but also changed minds.
"I have received thousands of messages expressing preoccupation for the fate of humanity," De Luca said, but many more, he added, were impassioned in their pro-life beliefs and ready to fight the battle to come.
(CRUX)