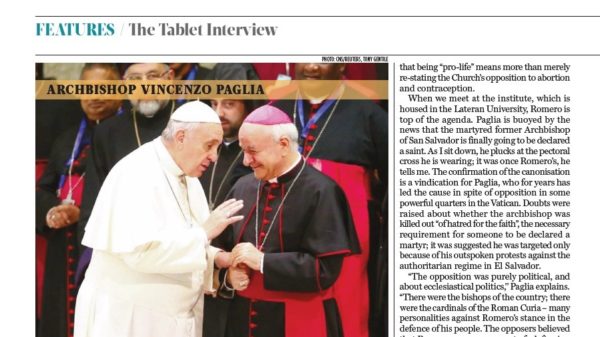 VINCENZO PAGLIA is a busy man.
Along with juggling two big Vatican jobs, he is the postulator for the cause of the canonisation of Oscar Romero (as well, incidentally, as the cause for the beatification of the Cuban priest, Félix Varela). As we sit in his office, I realise that the sound of church bells is not coming from the nearby Basilica of St John Lateran; it is the ringtone of his smartphone. There is a constant bustle of people putting their heads round the door, hoping to catch him. The
diminutive, Tigger-like archbishop revels in the mild chaos of juggling these balls; he's energetic and friendly, but, underneath, there is steely determination.
Archbishop Paglia, who turns 73 next Saturday, was born in Frosinone, a town 50 miles south east of Rome. He was ordained a priest of the Diocese of Rome and, as a student, was a co-founder of the community of Sant'Egidio 50 years ago. One of the most dynamic of the new movements in the Church, Sant'Egidio serves some of the most forgotten groups on the edges of society, and has played a key peacebuilding role in several conflict areas. It strives to apply the Gospel to everyday situations in a way that is almost a perfect embodiment of the message of Pope Francis.
It was Benedict XVI who appointed Paglia to his first major Vatican post, in 2012, as president of the Pontifical Council for the Family, which was merged into the new laity, family and life dicastery under the reforms of Pope Francis. In August 2016 Francis beefed up Paglia's position, appointing him both president of the Pontifical Academy for Life and chancellor of the new John Paul II Pontifical Theological Institute for Marriage and Family Sciences. Its remit is to help implement Francis' family life document, Amoris Laetitia, and to remind the world that being "pro-life" means more than merely re-stating the Church's opposition to abortion and contraception.
When we meet at the institute, which is housed in the Lateran University, Romero is top of the agenda. Paglia is buoyed by the news that the martyred former Archbishop of San Salvador is finally going to be declared a saint. As I sit down, he plucks at the pectoral cross he is wearing; it was once Romero's, he tells me. The confirmation of the canonisation is a vindication for Paglia, who for years has led the cause in spite of opposition in some powerful quarters in the Vatican. Doubts were raised about whether the archbishop was killed out "of hatred for the faith", the necessary requirement for someone to be declared a martyr; it was suggested he was targeted only because of his outspoken protests against the authoritarian regime in El Salvador.
"The opposition was purely political, and about ecclesiastical politics," Paglia explains. "There were the bishops of the country; there were the cardinals of the Roman Curia – many personalities against Romero's stance in the defence of his people. The opposers believed that Romero was an exponent of a left-wing church, of a [type of] liberation theology – something totally false. However, I can understand them in so far as the fact that Romero had also been used by a certain political leftwing as a sort of flag."
BUT, PAGLIA EXPLAINS, "God writes straight with crooked lines" and the "incredible" and "illogical" opposition melted away with the first Latin American pope, who unblocked the cause soon after his election. He also points
out that during his 1983 visit to El Salvador John Paul II made a point of visiting Romero's tomb, stressing that "Romero is ours".
Paglia argues that Romero is a "martyr for the Second Vatican Council", who paid the ultimate price for living out the Gospel in service to the poorest in society. The community of Sant'Egidio has regarded Romero as a saint for several years. His missal is included in their memorial to the martyrs of the 20th and 21st centuries in the church of San Bartolomeo on Rome's Tiber Island.
"I always kept my conviction that Romero was killed out of a hatred of a Church that the Second Vatican Council envisioned," he explains. "A Church that gives itself completely to help all men and women, starting with the poor. This is what he was a witness to." And, in keeping with the inclusive and ecumenical spirit that infused the council, he adds that Romero will be a saint for all Christians and for a globalised world; a figure who expresses what it means to have faith today.
The archbishop expects the Pope to canonise Romero, along with Pope Paul VI, in October, during the synod of bishops. He regards both figures – Romero as prophet and Paul VI as reformer – as guiding lights for the contemporary Church.
He reminds me that Romero met Paul VI in Rome soon after the murder in 1977 of his friend, the Jesuit priest Rutilio Grande, who is now also on the way to sainthood. The murder had been the decisive moment for Romero, turning him from acautious and hesitant leader into a courageous and radical critic of the brutal Salvadorean government.
"In the meeting they had, Romero showed Paul VI pictures of the priest's killing," Paglia explains. "Paul VI saw them, he blessed them, and told Romero, 'You are the archbishop, you are responsible for your people. Guide them until the end.' And, I know through witnesses and close collaborators of Romero, that these words gave him an incomparable strength and energy."
PAUL VI is remembered for shepherding the Second Vatican Council through to completion, for overdue reforms to the Curia, and for his commitment to collegial governance of the Church through the synod of bishops.
As his words to Romero show, he urged local bishops to be leaders of their flocks; Basil Hume recalled how vital Pope Paul's personal words of encouragement had been when he was feeling anxious about taking up the reins as Archbishop of Westminster.
But Paul VI's legacy also includes Humanae Vitae, which reaffirmed the Church's ban on artificial contraception; his canonisation will take place almost exactly 50 years since it was released. Paglia believes it is now time for the document to be "re-read" in the context of contemporary issues such as surrogacy, genetic modification and the ability of scientists to create new life in laboratories.
Paul VI's encyclical insisted on the dual role of sex as both bringing a couple closer together – its "unitive" aspect – and making it open to new life, the procreative. "[He] intuited, in a clear way, that to divide sexuality from generating [new life] would lead to a serious problem. Because in this division, conjugal love would become closed in on itself. It risked losing its responsibly of generating [life]," Paglia explains.
Yet Paglia wants to move the debate about Humanae Vitae away from a narrow discussion about whether or not the use of contraception might be morally permissable for married couples planning a family. "We have to widen the horizon," he says. "I believe that Paul VI identified a way. Of course, he spoke about contraception, but I believe that today this has become secondary. There are larger horizons that we have to strive towards."
SENIOR CARDINALS and both Benedict XVI and Francis have said there are circumstances in which the use of contraceptives is morally licit – namely, when they are used to prevent the spread of disease. Paglia is concerned to find a new "alliance" or "union" between men and women "if we want to avoid surrogacy, the creation of life in laboratories, or to genetically modify life". A new understanding of the union between man and woman, he argues, will help bring a deeper understanding of human relations, tackle inequality and bring a "humanisation" of technology. This ambitious vision is what he is bringing. For more features, news, analysis and comment, visit to the Academy of Life, which he has already revamped with the introduction of new members, including non-Catholics. As a result he has faced criticism, particularly from those who want the academy to be narrowly focussed on abortion and contraception, and to become an antagonist in the culture wars.
But Paglia insists that "today, we know that if we want to be really pro-life we have to be completely pro-life: pro entire life." It was right, he says, that in its early years the academy's focus was on abortion. But now, he goes on, "Our theme is not the search of the enemy, it's the opposite. Our aim is finding allies to then think together about new horizons that make humanity as a whole truly human."
Our interview took place just before Francis issued Gaudete et Exsultate, his apostolic exhortation on holiness, in which he is passionate in his defence of the unborn while urging Catholics not to forget that the lives of migrants and the poor are "equally sacred". The point could equally well have been made by the archbishop.
We are almost at the end of our interview, and I haven't yet asked him about his role as chancellor of the John Paul II Institute on Marriage and Family. As with the academy, Paglia is trying to broaden the vision of the institute, to move it away from just re-stating Church doctrine and to ensure that the Gospel, as he puts it, can "incarnate itself in the pastoral lives of families".
While the institute carries the Polish Pope's name, it is focussed on implementing Amoris Laetitia. Critics say this breaks with tradition by opening a pathway for some divorced and remarried Catholics to receive Communion. "I think that Amoris Laetitia has to be read in its totality," Paglia says. "To merely focus on a footnote means that you haven't understood anything."
PAGLIA ARGUES that it was John Paul II who took the initial step towards bringing divorced and remarried Catholics in from the cold. And when it comes to them receiving Communion it might not be a straight "No", but neither is it a "Yes" in all circumstances. Speaking of Catholic couples who find themselves in difficult circumstances, he says: "Do we want them to always stay in the basement or the attic? We have to work on this. But the true revolution, the real force of Amoris Laetitia, is the call for the Church to be itself a family. To assume a new ecclesial form: an ecclesia familia dei [a Church of the Family], not a functional and institutional Church."
Vincenzo Paglia is a man primarily motivated by his heart, while his head helps him navigate the chicaneries of curial bureaucracy. It's hard not to be reminded of the way Pope Francis operates. And it is not surprising that this energetic archbishop has become one of Francis' key allies in the Roman Curia.