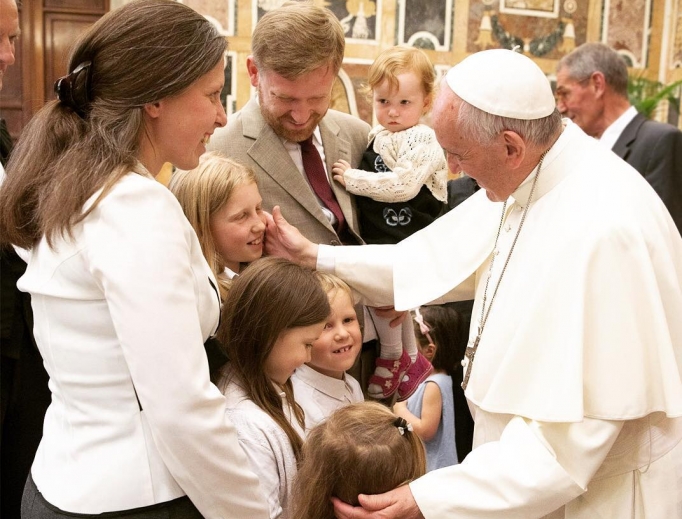 VATICAN CITY — On Tuesday, Pope Francis issued a new motu proprio changing the legal status of the John Paul II Institute for Marriage and Family, making it a theological institute charged with studying marriage and the family from a scientific perspective.
The motu proprio, titled Summa Familiae Cura, meaning "Highest Care of Families," was published Sept. 19 and officially established the John Paul II Theological Institute for the Sciences of Marriage and Family, replacing the former institute founded by John Paul II in 1981.
In the document, Francis noted that John Paul II made great strides in the area of the family, first of all with his 1980 Synod of Bishops on the topic and the subsequent publication of his post-synodal apostolic exhortation on the conclusions of the gathering, Familiaris Consortio (The Role of the Christian Family in the Modern World).
He then established the Pontifical John Paul II Institute for Marriage and Family in 1981 with the apostolic constitution Magnum Matrimonii Sacramentum in order develop the themes in his 1960 book Love and Responsibility, written when he was still Cardinal Wojtyla, and the theology of the body catechesis he developed while Pope.
"Since then it has developed a profitable work of theological and pastoral education both in its central headquarters in Rome and in the territorial sections, present on all continents," Francis said.
While the institute's main headquarters remains in Rome, it has campuses all over the world, including in Washington, D.C., Nigeria, Spain, Brazil, Mexico, India and South Korea, among others.
This path of development has continued, Francis said, with the recent 2014 and 2015 Synods of Bishops on the Family, which resulted in Pope Francis' own apostolic exhortation Amoris Laetitia (The Joy of Love), published in 2015.
In the text, which was signed on the Sept. 8 feast of the Nativity of Mary, the Pope said that in light of the new challenges families today face and increasing cultural changes, he wanted to establish the new entity so that the work of the John Paul II Institute for Marriage and Family can be "better known and appreciated in its fruitfulness and relevance."