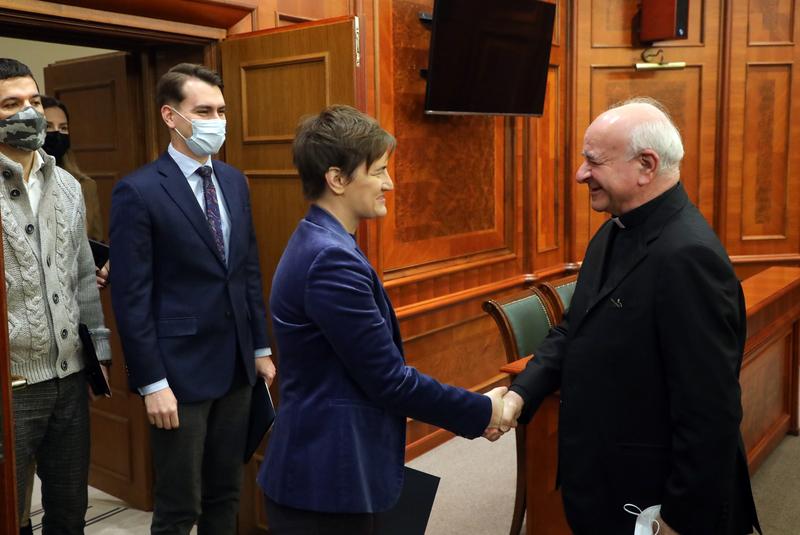 Prime Minister Ana Brnabic said today during the talks with the President of the Pontifical Academy for Life and Grand Chancellor of the John Paul II Pontifical Theological Institute for Marriage and Family Sciences, Monsignor Vincenzo Paglia, that the relations between Serbia and the Holy See are without open issues, stable and characterised by mutual respect and consideration.
Brnabic expressed special gratitude to the Holy See for the support to stability and prosperity of the Western Balkans and for its interest in the current state of affairs in the region.
The Prime Minister underlined that one of Serbia's main priorities is a stable and well-connected region, which will offer a better standing of living and prospects to its citizens.
She noted that the "Open Balkans" Initiative, which is complementary with all other regional initiatives, contributes to that and is the best way to regional stability.
The Prime Minister voiced gratitude for the principled position of the Holy See regarding Kosovo and Metohija, based on the respect for international law, and pointed to the need of implementation of the Brussels Agreement and the establishment of the Community of Serb Municipalities.
Monsignor Paglia stated that dialogue, cooperation and the boosting of ties in the region are the only way towards peace and stability and underlined that the Holy See supports these efforts, and Serbia, which is the pillar of the Western Balkans.
He said that the European perspective is important for both Serbia and the entire region and highlighted that our country is a historical and geographical part of Europe.
Paglia voiced conviction that the European integration process will get accelerated in the future, underlining that ties between Italy and the Western Balkans are centuries-old and that they are built on respect and consideration.
According to him, the vision of the Holy See is to help the region get connected in the best possible way while at the same time respecting tradition and differences.
He underlined that the Holy See is committed to improving relations with Serbia and that the Community of Sant'Egidio will continue to support regional development and stability, while at the same time insisting on interfaith dialogue.