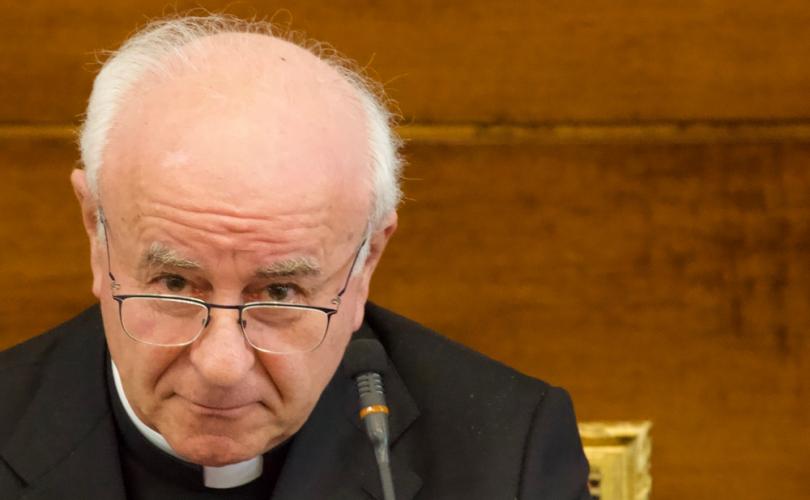 ROME, December 11, 2019 (LifeSiteNews) — In a statement difficult to reconcile with Scripture and Tradition, Archbishop Vincenzo Paglia, President of the Pontifical Academy for Life, has claimed on behalf of the Catholic Church that anyone who says Judas Iscariot is in hell is a heretic.
In an even more disturbing statement, the Italian archbishop has also asserted that a priest may legitimately remain at the bedside of someone undergoing assisted suicide in order to "hold their hand" and "accompany" them.
Archbishop Paglia's comments came on December 10, at the presentation of a multi-faith International Symposium on Religion and Medical Ethics: Palliative Care and Elderly Mental Health, being held in Rome December 11-12. The symposium, co-sponsored by the Pontifical Academy for Life and the World Innovation Summit for Health (WISH), an initiative of Qatar Foundation, is chiefly focused on Christian and Muslim perspectives on end of life issues.
Following the formal presentation at the Holy See press office on Tuesday, a journalist asked Archbishop Paglia for his views on a December 5 statement issued on by the Bishops of Switzerland, requiring priests and Catholic pastoral caregivers to leave the room before a lethal injection or other means of suicide is administered.
The 30-page document of the Swiss Bishops, titled "Pastoral behavior with regard to the practice of assisted suicide," comes in response to increasing rates of assisted suicide in Switzerland. It states that assisted suicide "is radically against the Gospel message" and its practice "is a serious attack on the preservation of the life of the human person that must be protected from conception until natural death."
Archbishop Paglia, who serves as chancellor of the new John Paul II Institute for Marriage and Family Sciences in Rome (and presided over the former institute's demolition), said he has not read the statement issued by the Swiss bishops "in detail" but doesn't believe that "anyone should ever be abandoned."
"We are against assisted suicide because we do not want to do the dirty work of death and because we are all well aware that, for believers, life goes on," he continued. "To accompany and hold the hand of those who are dying" is therefore the "great task" of every believer, he said, along with fighting the culture of assisted suicide, which represents "a great defeat for society."
"We cannot turn [assisted suicide] into a wise choice," he said.
Archbishop Paglia then clarified: "I always celebrate funerals for those who commit suicide, because suicide is always a question of unfulfilled love. We must also remember that, for the Catholic Church, if someone says that Judas is in hell, he is a heretic."
The assertion that saying Judas is in hell is tantamount to heresy is surprising given the clear teaching of Sacred Scripture, the Fathers and Doctors of the Church and the liturgy. As Cardinal Avery Dulles once explained in an article titled 'The Population of Hell':
"The New Testament does not tell us in so many words that any particular person is in hell. But several statements about Judas can hardly be interpreted otherwise. Jesus says that he has kept all those whom the Father has given him except the son of perdition (John 17:12). At another point Jesus calls Judas a devil (John 6:70), and yet again says of him: "It would be better for that man if he had never been born" (Matthew 26:24; Mark 14:21). If Judas were among the saved, these statements could hardly be true. Many saints and doctors of the Church, including St. Augustine and St. Thomas Aquinas, have taken it as a revealed truth that Judas was reprobated. Some of the Fathers place the name of Nero in the same select company, but they do not give long lists of names, as Dante would do.
Indeed, Sacred Scripture, Pope St. Leo the Great, St. Augustine, St. Thomas Aquinas, St. Catherine of Siena, the Catechism of the Council of Trent and the Church's liturgy are all of one accord regarding the fate of Judas Iscariot.
Furthermore, as canons 750 and 751 confirm (as well as Pope John Paul II's 1998 motu proprio Ad tuendam fidem), for any assertion to be qualified as a heresy it must contradict Divine Revelation; according to what the Church has proposed as divinely revealed, nowhere in Sacred Scripture or Tradition is it said that Judas is not in hell.
Asked if a priest can therefore "accompany a person who undergoes assisted suicide," Archbishop Paglia said the issue "goes beyond laws" and that he "didn't want to give a rule to contradict and so on."
"I would like to remove ideology from these situations forever and for everyone," the archbishop said. "For me, those who take their own lives manifest the failure of the whole of society, but not of God. And God never abandons anyone."
"Let's avoid getting stuck in ideological debates," he said. "What is most important is accompaniment. We think of laws when the most serious thing is the abandonment of thousands and thousands of sick people, even when there is a law. Perhaps because they don't get votes."
In comments to LifeSite, a priest close to the Vatican, speaking on condition of anonymity, said: "Frankly, the first abandonment a Catholic and a priest should worry about is the possible or likely abandonment of a soul of such a person into hell, i.e. supernaturally provoked abandonment and suicide of one's soul for having voluntarily forsaken God's law, His plan and His love … then we can talk about other matters…."
"True accompaniment in this case means seeking to be close, yes, but that does not mean scandalously holding their hand while they commit mortal sin, as if condoning or remaining indifferent to it and being perceived as such. A priest must seek first and foremost to save a soul, by telling that person what is at stake, and not abandoning him to his bad judgment. Indeed, that would be true abandonment, although perhaps it would be less troublesome for a priest and allow him to continue to be praised by the world," he said. "But ours is not the spirit or criterion of the world. We are creatures of the kingdom of heaven who wish to reach our true home."